Following a plea deal struck in April, U.S. District Judge Cecilia Altonaga on Jun. 21 in Miami sentenced former Haitian soldier, police officer, paramilitary leader, presidential candidate, and Senator-elect Guy Philippe, 49, to 108 months in U.S. Federal prison for laundering up to $3.5 million in drug money between 1999 and 2003.
If he had gone to trial and been convicted of the other two charges against him for drug trafficking and "Engaging in Transactions Derived from Unlawful Activity," Philippe could have been sent to jail for life. Instead, those charges were dropped, and, as recommended by prosecutors, he received the minimum sentence allowed in a plea bargain on the remaining charge of money laundering. With good conduct, he could get out of jail in seven and a half years, or 2024. Judge Altonaga said that Philippe would be on probation for three years after serving his sentence but will almost surely be deported back to Haiti.
"There was also a $1.5 million judgement entered against him for forfeiture, so the government is allowed to go after assets up to the amount of $1.5 million," said Assistant U.S. Attorney Lynn M. Kirkpatrick after the sentencing hearing.
The sentencing, which had originally been scheduled for Jul. 5, took all of ten minutes.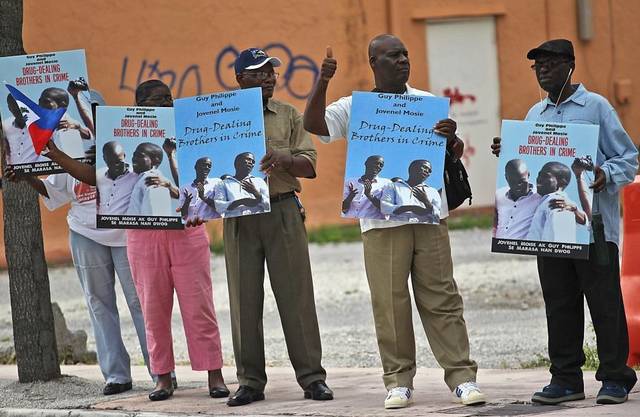 Demonstrators organized by Veye Yo rallied outside the courthouse to say that the sentence was too lenient. Credit: Miami Herald
Outside the courthouse, about a dozen demonstrators convened by the Miami-based Haitian popular organization Veye Yo, founded by the late Rev. Gérard Jean-Juste three decades ago, denounced Philippe's close association with Haitian President Jovenel Moïse and condemned the sentence as too lenient.
"We told the judge that nine years was too little and to add another nine to it," said Veye Yo leader Tony Jean-Thénor. "Make the sentence 99 years, we said."
The demonstrators held up posters showing Philippe and Moïse embracing and campaigning together before the anemic Nov. 20, 2016 election in which they were both elected. On the picture was printed: "Guy Philippe and Jovenel Moïse: Drug-Dealing Brothers in Crime."
"We told the judge that nine years was too little and to add another nine to it," said Veye Yo leader Tony Jean-Thénor. "Make the sentence 99 years, we said."
"Philippe is just the tip of the iceberg," Jean-Thénor told Haïti Liberté. "Jovenel Moïse was the one who introduced former President Michel Martelly to fugitive drug trafficker Evinx Daniel [arrested in 2013 by Haitian police then released through the president's intervention, he disappeared into the Haitian countryside], according to Sweet Micky [Martelly's nickname] himself. The Senate President, Youri Latortue, is described as a drug dealer and Mafia boss by the U.S. Embassy itself in secret cables released by Wikileaks and Haïti Liberté. Guy Philippe was not the only candidate to use drug money to buy his way to a parliamentary post in the 2015 and 2016 elections which were boycotted by over 80% of Haitian voters."
Other demonstrators complained that Philippe had not been prosecuted for much more serious offenses than laundering money and running drugs. "His real crimes are, first, that he was instrumental in helping to overthrow the democratically elected government of President Jean-Bertrand Aristide in 2004," said Simonville Estinphil, 65, a retired security guard. "Then, after the coup, in Cap Haïtien, he and his paramilitaries locked many Aristide supporters in a container and dropped them in the sea, drowning them. This was just the worst of many murders his thugs committed from 2001 to 2004. Then, in May of last year, his troops attacked the Aux Cayes police station, killing a police officer and wounding others. Guy Philippe has wronged Haiti in many ways. I hope he is judged there when he is sent back after doing his time in the States."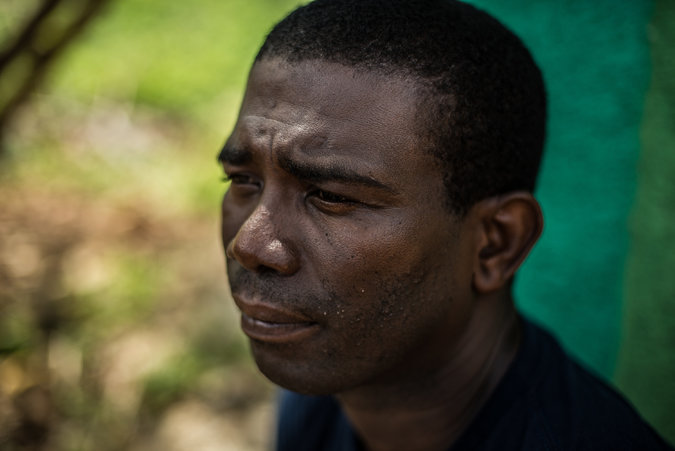 Guy Philippe's "real crimes" were helping to overthrow Aristide, killing Aristide supporters, and killing and wounding policemen in 2016, said demonstrator Simonville Estinphil.
Although dozens of Guy Philippe's supporters traveled to Miami for his arraignment in January, to proclaim his innocence and demand his release, only one showed up on Jun. 21 for the sentencing.
Mistaking the Veye Yo demonstrators for allies, the Philippe supporter took one of their signs and held it up. But when he heard their chant – "Nine years is not enough!" – he realized his mistake, dropped the sign, and ran away.
Haitian police arrested Philippe outside a radio station in Port-au-Prince on Jan. 5, 2017, just days before he would have been sworn in as a Haitian Senator with legal immunity. He was extradited the same day to Miami, having eluded capture by U.S. authorities since he was indicted in 2005.
"This case is the result of the ongoing efforts by the Organized Crime Drug Enforcement Task Force (OCDETF), a partnership that brings together the combined expertise and unique abilities of federal, state and local law enforcement agencies," wrote the office of Acting U.S. Attorney for the Southern District of Florida, Benjamin G. Greenberg, in a press release. "The principal mission of the OCDETF program is to identify, disrupt, dismantle and prosecute high-level members of drug trafficking, weapons trafficking, and money laundering organizations and enterprises."